6Wind
RocNet New Partner Technologies
Revolutionize Your Network Infrastructure with 6WIND's Cloud-Native Software Solutions
Say goodbye to expensive hardware and unlock the power of virtualized, high-performance networking with 6WIND's cutting-edge software solutions. 6Wind offers virtualized, secure networking software solutions to support 5G, IoT, and SD-WAN. With 6Wind, businesses can seamlessly replace traditional hardware with innovative software that provides routing and end-to-end security solutions.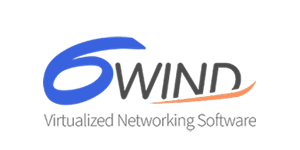 Multi-core Software   •   Networking   •   Packet Processing   •   Linux   •   DPDK   •   OpenStack / Neutron   •   Cloud / Virtualization   •   Open vSwitch (OVS)   •   IPsec   •   TCP   •   NFV / NFVI   •   Cavium   •   Broadcom   •   Octeon   •   CG-NAT   •   5G   •   vBNG   •   Cell Site Router   •   Provider Edge Router   •   Border Router   •   CGNAT Router   •   Security Gateway Router   •   uCPE Router
6Wind's Virtual Service Router products give you the best Cost vs Performance ratio and can dramatically reduce your energy consumption and carbon footprint. These scalable virtualized software routers are reliable and flexible solutions that give you end to end security, more agile deployments, and better resource allocation. And it can do this all while saving you money.
Running out of IPv4 addresses? 6Wind's Virtual Carrier Grade NAT Router can help!
Looking to expand your subscriber base while also controlling costs? 6Wind's vCGNAT allows a public IPv4 to be shared between several customers, helping you lower overall total cost of ownership. 6WIND Virtual CGNAT® enables a smooth transition to IPv6 and allows you to efficiently extend your IPv4 networks. It aggregates millions of concurrent connections and scales the bandwidth performance from 1G to 400G. Choose from bare metal deployments on Intel Xeon and Atom servers or virtual deployments on VMware ESXi, Linux KVM, and Amazon Web Services.
Other 6Wind Virtual Service Router Offerings:
Virtual Provider Edge Router (vPE)

– The 6Wind Virtual Provider Edge (vPE) Router provides an IP/MPLS network edge service for CSPs and Enterprises. You can deliver exceptional connectivity over your existing IP/MPLS infrastructure. It's a compelling alternative to traditional physical routers, offering the same functions and performance while enabling faster service innovation and an increased service reach.

Virtual Cell Site Router (vCSR)

– This advanced technology is designed to run on x86 COTS servers. It provides the necessary features and performance to effectively aggregate traffic in a radio access network. By seamlessly connecting baseband units and backhauling the traffic over an aggregation network, the 6Wind vCSR ensures efficient communication between these components and the operator's core network to greatly enhance your network's performance.

Virtual Border Router (vBR)

– This high-performance ready-to-use virtual router can revolutionize the way you manage your network. Whether you choose to deploy it bare-metal, virtualized, or containerized on COTS servers in private or public clouds, the 6Wind Virtual Border Router offers unmatched performance and reliability.

Virtual Security Gateway (vSecGW)

– The 6Wind vSecGW Router not only provides exceptional performance and scalability, but also incorporates advanced security capabilities. We understand that the security landscape is constantly evolving, and as such, it is crucial for CSPs, MNOs, and Enterprises to have a solution that can effectively address end-to-end security challenges. With the 6Wind vSecGW Router, you can have peace of mind knowing that your network is protected against potential threats.

Virtual CPE Router (vCPE)

– This virtualized routing solution was adapted for Universal Customer Premises Equipment. The 6Wind vCPE Router operates as a virtualized network function (VNF), delivering exceptional routing, security, and VPN connectivity services on simple, inexpensive, on-site x86 platforms.