Casa Systems
RocNet New Partner Technologies
Cutting Edge 5G Solutions
Casa Systems is revolutionizing the telecommunications industry with core to customers solutions. Their game-changing core and access solutions are transforming broadband networks, delivering the service agility and network efficiency required for the 5G future. Whether you are a mobile, cable, fixed, or converged service provider, Casa Systems has the expertise and technology to take your network to the next level.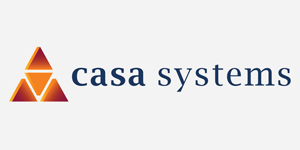 Wi-Fi   •   Cable   •   Wireless   •   Mobility   •   PON   •   EPC   •   EdgeQAM   •   LTE   •   Virtualization   •   Small Cells   •   RAN   •   NFV   •   DOCSIS   •   BGN   •   IP Networking   •   4G   •   5G   •   DOCSIS 3.1   •   Core
Fiber Extension Portfolio
Casa's Fiber Extension Solutions product portfolio delivers FTTH solutions to hard-to-reach locations, solving the "last mile" fiber problem and empowering service providers to deliver high speed broadband services to customer sites once considered too difficult to connect, such as customers with expensive last-hop deployment costs, historical building constraints, or challenging MDU agreements. Casa's Fiber Extension solutions allow providers to deliver fiber-like speeds over existing last-hop copper infrastructure for an extremely cost effective alternative to full fiber.
Casa's Distribution Point Unit (DPU) can be deployed on a pole, wall, down a manhole, or in an MDU basement. It's available in a variety of port counts to meet the needs of single and multi-dwelling units in low, medium, and high density zones. It is reverse-powered, eliminate the substantial costs and delays that can come with connecting AC power at install sites.
Casa's Network Termination Device (NTD) connects to the DPU to complete the Fiber Connection Extension. Casa NTDs power the DPU using the same copper pair connection that delivers the fast broadband service. The NTD arrives to the customer with a Quick Start guide and color coded ports and cables, making end-user installation quick and eliminating the need for technicians to do the install. New Fiber Extension deployments need to be compatible with legacy gateway devices and support upgrades to the latest devices. Casa's NTDs feature flexible so that providers and customers can continue using their existing residential gateway, allowing providers to use their standard range of Ethernet enabled gateways being used for other access technologies.
Virtualized Broadband Network Gateway (vBNG) Router
Casa's Axyom™ Virtualized Broadband Network Gateway (vBNG) Router provides advanced subscriber management and routing capabilities in a virtual solution that enables the scaling and performance that your network needs. Built from the ground up as a cloud-native solution for both OpenStack and container-based cloud networks, Casa's Axyom vBNG Router delivers the performance, scaling, and agility needed to address 5G broadband demands. Through a unique design that disaggregates network functions, streamlines packet flows, enables independent and dynamic scaling of control and data planes, the Axyom vBNG delivers superior throughput in both centralized and distributed architectures.
vBNG for Operators who want to:
Converge wireline and wireless subscriber management
Unlock unlimited bandwidth
Eliminate vendor hardware lock-in
Enable seamless Geo-redundancy
Increasing Revenues:
Accelerate new service introduction
Flexibility of adding new services
Scalability:
VNF based technology allows for scalability both upward and downward
Ability to move to a "Distributed Architecture" as subscriber counts grow
Virtualized CCAP
For Multi-system operators poised to continue the evolution of their cable access networks, Casa's AxyomTM Virtual CCAP (vCCAP) delivers a web scale solution, plus cost savings and service flexibility. Casa's vCCAP provides full CCAP functionality that allows users to easily deploy both vCCAP and iCCAP as they migrate their networks. Developed for the cloud, the Axyom vCCAP is designed as an open solution that supports full interoperability to 3rd party orchestrators and Distributed Access Architecture (DAA) nodes.
Why Casa vCCAP?
Move the PHY layer closer to the customer
Remove Single Use Fiber from the network
Flexible Licensing Model Options – pay only for what you use\
Better scaling/density